If you don't hear from me in two hours, then I have become one with the sea
Published on 2 December 2020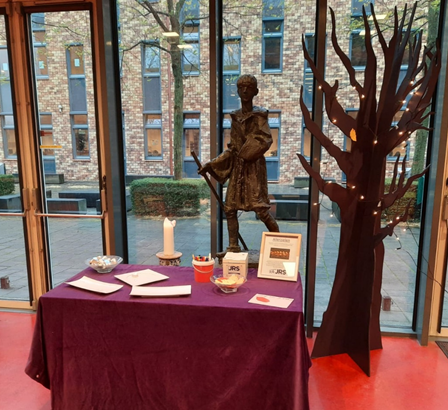 In the past six years, more than 20,000 people have drowned while crossing the Mediterranean, according to the Missing Migrants Project of the International Organization for Migration (IOM). "In reality it is impossible to collect reliable data on the total number of victims," says Simon Robins by telephone. He is affiliated with the British University of York and is researching the bodies found. "The majority of people are never found anyway."
Today, with All Souls' Day, we and our students also burn a candle for all these people. Drowned, murdered, disappeared on their perilous journey towards a better life. We reflect on the deep sorrow ofan often anonymous grave.
Dutch version
Als je binnen twee uur niets van me hoort, dan ben ik één geworden met de zee
In de laatste zes jaar zijn meer dan twintig duizend mensen verdronken tijdens hun overtocht via de Middellandse Zee, is deschatting van het Missing Migrants Project van de Internationale Organisatie voor Migratie (IOM). "In werkelijkheid is het onmogelijk om betrouwbare gegevens over het totale aantal slachtoffers te verzamelen", zegt Simon Robins per telefoon. Hij is verbonden aan de Britse Universiteit van York en doet onderzoek naar de gevonden lichamen. "De meerderheid van de mensen wordt sowieso nooit gevonden".
Vandaag branden wij met onze leerlingen een kaarsje voor al deze mensen. Verdronken, vermoord, verdwenen tijdens hun gevaarlijke tocht op weg naar een beter bestaan. We staan stil bij het diepe verdriet van een, vaak anoniem, graf.
---
Country : Netherlands